Sandra Spence
Biography
About Sandra Spence
What do Sandra Spence and Ali MacGraw have in common?

A certain look-alike!

Sandra worked as a "Stand In" for Ali MacGraw shooting the movie Natural Causes in Bangkok. Living the high life, diving inside exciting shipwrecks in Micronesia and getting paid for it!

Continuing the jet-set lifestyle, she travelled the world on a Private Yacht working as a personal nurse with a base in Switzerland.

Not one for small things, she single-handedly established and operated a successful Real Estate Brokerage in Mexico working with International Investment clients.

Next, as a Medical Aesthetician (Certified, licensed professional Medical skin care specialist) she developed and managed skin and laser clinics for more than 14 years.

From Holland to Hong Kong, Sandra practiced as a Nurse and a Midwife working both on land and at sea.

She established herself as founder and Publisher of Natural Pregnancy Magazine and Coach helping Natural Practitioners set up their own successful practice.

Originally from England, Sandra loves scuba diving and is an animal activist, a rescuer of all creatures great and small! Dogs and cats mostly, though.

She has been a Vegetarian for the past 30+ years and is currently established on Vancouver Island, Canada, with her husband Neil.
Books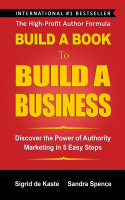 Build A Book To Build A Business - Discover the Power of Authority Marketing in 5 Easy Steps
by

Sandra Spence

&

Sigrid de Kaste
As an entrepreneur, business owner or professional, you are an expert in your industry with a wealth of knowledge. To let the world know about it, you want to stand out using the most powerful promotional tool; Publish Your Own Book. Unfortunately most people make 3 Major Mistakes when writing and publishing their book. Learn how to avoid these mistakes and write a Book that Builds your Business.
Sandra Spence's tag cloud