Phil Santamassino
Biography
My name is Phil Santamassino. Putting my name on this book is actually irrelevant because at least thousands and more could put their name in my place. My goal here is to make sure you are not one of those people! This book explains the ten mistakes that we made some most of in our business that caused us to file bankruptcy. We actually lost everything we work extremely hard at.
These mistakes were made because like all who are starting out we wanted to save money. The mistakes sounded so logical we thought NOT doing them was the wrong way to go about making money. One of the mistakes we talk about left us blind to the financials because it made sense to have someone else handle it while we worked on growing the business. We succeeded on our part as we started with an SBA loan and built it to a $500,000 a year business. Wonderful you say until you read about the financial man not paying the IRS for four years out of the five we were in business. Two IRS agents walked in one day after our busy period, introduced themselves, and in a matter-of-fact tone told us we owed the government $55,000. You read that right. Fifty five THOUSAND dollars! The financial man was a family member (you have heard it before about not hiring family members). My wife trusted him more than me and did not add him as a member of our LLC despite my objections. He walked with no penalties and we are still paying this debt by ourselves.
This is just one of the mistakes you can, and probably will, make. It is explained in the book along with nine other mistakes you WILL MAKE if you are trying to save money especially in the beginning stages. Without dragging this out I encourage you to purchase this book so you can protect yourself and possibly save your business.
Books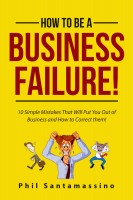 How To Be A Business Failure!
by

Phil Santamassino
This book explains the 10 simple mistakes that both start-ups and new businesses make that are guaranteed to put them out of business and the ways to correct them!
Phil Santamassino's tag cloud