Dr Raghbir Singh Dugal
Biography
RAGHBIR SINGH DUGAL (1897-1957), a medical practitioner and leader of the Sikh community in Burma, was born in 1897, the son of Sobha Singh, at the village of Sayyid Kasran, in Rawalpindi district, India, which is now in Pakistan. He had his early education at his village in Rawalpindi, and in 1911 accompanied his elder brother S. Kartar Singh Dugal to Rangoon where he qualified as a physician. Along with his medical practice, Raghbir Singh took a great deal of interest in social work and became president of the Sikh temple at Rangoon and secretary of the Sikh Educational Committee of Burma. In December 1927, he was elected president of the Khalsa Diwan, Burma.
Where to find Dr Raghbir Singh Dugal online
Books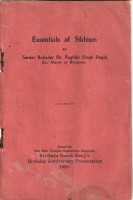 Essentials of Sikhism: A talk by Sardar Bahadur Doctor Raghbir Singh Dugal
by

Dr Raghbir Singh Dugal
A short, simple talk on what is Sikhism (Is it 2nd Generation religion, Sect. or Tribe). How it is similar to Christianity & Hinduism and Islam. Circumstances that brought Sikhism into existence. Basic tenets of Sikhism. Why Sikhism survives and what is unique to it. A must read for anyone looking for a quick read on the subject.
Dr Raghbir Singh Dugal's tag cloud