Sarah A. Hoyt
Biography
Sarah A. Hoyt was born (and raised) in Portugal and now lives in Colorado with her husband, two sons, and a variable number of cats, depending on how many show up to beg on the door step. She is the author of more than 34 published novels: science fiction, fantasy, mystery, historical mystery, historical fantasy and historical biography. Her short stories have been published in Analog, Asimov's, Weird Tales, and a number of anthologies from DAW and Baen. Her space-opera novel Darkship Thieves was the 2011 Prometheus Award Winner. Her most recent novel is Darkship Revenge, the fifth book in the acclaimed Darkship series.
Where to find Sarah A. Hoyt online
Books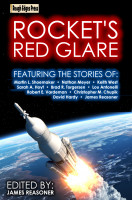 Rocket's Red Glare
by

James Reasoner

,

Martin L. Shoemaker

,

Nathan E. Meyer

,

Keith West

,

Sarah A. Hoyt

,

Brad R. Torgersen

,

Lou Antonelli

,

Robert E. Vardeman

,

Christopher M. Chupik

, &

David Hardy
The stories in Rocket's Red Glare exemplify the adventure, courage, and sense of discovery so vital to the American spirit. Whether daring to cross interstellar space or battling alien conquerors when they come right to our own backyard, the characters in these tales never give up, never stop fighting for their country, their lives, their honor. Packed with space opera excitement!
Sarah A. Hoyt's tag cloud