Sarah Coolidge, MA
Biography
Sarah Coolidge grew up in a household which was uniquely focused on communication and the English language. Her mother was a second-generation English major, who constantly reminded Sarah and her sisters to "aspirate your h's" and "enunciate!" Her father suffered from speech aphasia as the result of a cerebral aneurysm, and had difficulty constructing complete, understandable sentences. This complex environment brought an intense focus to the impact of language to her childhood and life.

Sarah specializes in supporting entrepreneurs, small business people and web-builders to present their best possible written messages to the world. She is a sought-after proofreader in the self-publishing industry and the co-author of "Make a Book, Move a Book, Book a Sale." "Your Amazing Itty Bitty® Message Mastery Book" is her second book.
Books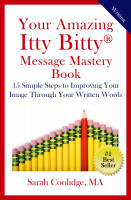 Your Amazing Itty Bitty Message Mastery Book
by

Sarah Coolidge, MA
Master the steps in this book and you will be able to use all of today's written technology, including websites, emails, and self-publishing to win customers, clients and friends. For example: Create a compelling and convincing first impression. Build rapport and connection with your reader. Set yourself apart as the best in your field.
Sarah Coolidge, MA's tag cloud