Sasha Anawalt
Biography
Sasha Anawalt is director of USC Annenberg Arts Journalism Programs, including the Masters degree in Specialized Journalism (The Arts) program, a partnership with the five arts schools at USC that she helped create and launch in 2008. She is a lecturer on the Annenberg School of Journalism faculty. Anawalt also directs the USC Annenberg/Getty Arts Journalism Program, which in 2011 produced Engine29.org, a site for experimental projects and best-thinking practices in arts journalism. Anawalt's best-selling cultural biography, "The Joffrey Ballet: Robert Joffrey and the Making of an American Dance Company" (Scribner, 1996), will be re-issued in January 2012 as an e-book, timed to coincide with the release of a feature film documentary. "Joffrey: Mavericks of American Dance," by director Bob Hercules, is heavily based on her book. From 2005 to 2011, Anawalt directed the NEA Arts Journalism Institute in Theater and Musical Theater, where this past spring she created and built with Douglas McLennan, Engine28, the pop-up newsroom. In October 2009, she co-produced with McLennan the first-ever National Summit on Arts Journalism, a one-day virtual and real conference in Annenberg Auditorium. Anawalt was the first chief dance critic for the Los Angeles Herald Examiner and the LA Weekly and, for nearly a decade, was the voice of "Dance Notes" at KCRW, National Public Radio. Her reviews and features can be found in the archives of The New York Times, The New York Times Magazine, Los Angeles Times, Wall Street Journal, SoHo Weekly News, Montreal Gazette, Dance Magazine, TV Guide, KUSC and MSNBC-online sites. Anawalt served on the 2006 and 2007 Pulitzer Prize Committee juries for criticism. She is a frequent host and speaker for the dance series at the Music Center and at USC's Visions and Voices. She is a board member of USC Fisher Museum of Art, the LA Stage Alliance, and Art Sanctuary in Philadelphia. She also serves on the advisory board of Jacaranda: Music at the Edge of Santa Monica. A native of New York City and graduate of Barnard College, Anawalt lives in Pasadena with her husband; they have three children.
Where to find Sasha Anawalt online
Books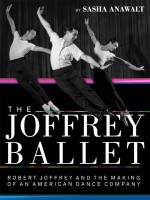 The Joffrey Ballet: Robert Joffrey and the Making of an American Dance Company
by

Sasha Anawalt
The Joffrey Ballet, acclaimed as a groundbreaking book when it was published, tells a story that was kept largely hidden from public view for many years. The company made ballets about beatniks, erotic multimedia goddesses, sea nymphs, clowns, slackers, radicals and jocks, thrilling audiences as much as it often outraged critics.
Sasha Anawalt's tag cloud