Sebastian Corbascio
Biography
Sebastian Corbascio was born and raised in Oakland, CA. He was deeply influenced by his parents, both artists in their own right. Mr. Corbascio is a film director, and Sarah Luger was a film before it was a book. His two main influences are James Ellroy and Cormac McCarthy. "Real life had a huge impact as well." Mr. Corbascio lives in Los Angeles, CA.
Where to find Sebastian Corbascio online
Videos
Sarah Luger
A popular fifteen year old girl is brutally murdered on her front door step in a small wealthy community. The investigation uncovers the town's skeletons in the closet.
Books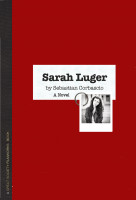 Sarah Luger
by

Sebastian Corbascio
April 4th, 1984, Fidelis, CA. Fidelis, an upwardly mobile town of 30,000 is rocked by the fatal stabbing of Sarah Luger, a 15 year old volleyball star, on her front doorstep. Det. Lt. Charles Sariano, famous for trapping the Capricorn Killer in San Francisco almost twenty years earlier, is called in. He uncovers the events which cuts a land-mine filled adolescence short one fateful night.
Sebastian Corbascio's tag cloud