Scott Brietzke
Biography
I live in Rogers city up in Northern Michigan with my wife, Jackie, and son, Nicholas. For many years I worked on the great lake freighters as a deckhand and watchman.

As a young kid I watched the movie Dawn of the Dead by George Romero, the father of the flesh-eating zombie. After that, the zombie became my favorite monster.

As the years went by I read many novels, some of which were zombie novels such as Rise Again by Ben Tripp, Apocalypse of the Dead and City of the Dead by Joe Mckinney, and the Autumn series by David Moody.

After reading many books I decided to write one and that book was Death Flu.
Books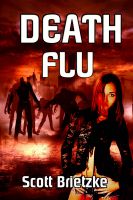 Death Flu
by

Scott Brietzke
"Death Flu: pray you won't be a survivor..." Racists, murderers, rapists, and sociopaths — it seems that only the worst of America rises like human scum to the surface of a land shattered by the Death Flu. Only they have the strength to survive in a world where your neighbors and loved ones rise again after death, ravenous for your flesh. Death Flu: not for the squeamish!
Scott Brietzke's tag cloud