Scott Morris
Biography
Scott Morris has been a serial entrepreneur since being discharged from the USMC in 1980. He started more than 12 successful businesses from scratch before turning his attention to Internet marketing. To hone his skills on the Internet, he joined the most successful Internet marketer of all time, Eben Pagan, and for four years was his senior consultant. While on Eben's team, Scott met Ray Riechert, and together they've developed some of the most robust and user friendly tools for ranking videos online. Through Local Business Associates, LLC, Scott, Ray, and Jerry deliver all of their combined experience and knowledge so that local business owner can dominate Local Google Search results for their individual businesses, delivering more traffic through their front doors, resulting in more sales. It's really simple; If you are not #1 in Local Google Search results for what you do, you are invisible to your customers, period.
Books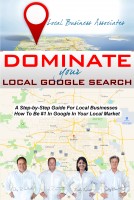 Dominate Your Local Google Search: A Step-by-Step Guide For Local Businesses; How To Be #1 In Google In Your Local Market
by

Ray Riechert

,

Jerry Riechert

,

Kathy Roberts

, &

Scott Morris
Local Business Associates has marketing strategies for your local business including local SEO, video marketing, content marketing and social media marketing. We show you practical examples because in today's environment, local businesses need to embrace online marketing techniques. The bottom line: for your website, your blog posts and your YouTube videos to have a page one Google ranking.
Scott Morris' tag cloud