Scott S. Phillips
Biography
Scott S. Phillips has written in almost every capacity imaginable: films, TV, books, comics and even dialogue for talking dolls. His most recent novel is PETE, DRINKER OF BLOOD. He also wrote the novels SQUIRREL EYES and FRIDAY THE 13TH: CHURCH OF THE DIVINE PSYCHOPATH, and the short story collection TALES OF MISERY AND IMAGINATION. Scott wrote the screenplay for the cult action flick DRIVE (recently named "The Best American Martial Arts Movie Ever Made" by Kung Fu Cinema), and wrote 12 episodes of the CW Network's KAMEN RIDER DRAGON KNIGHT. Perhaps most importantly, he once performed as stand-in for the legendary Lemmy in a Motorhead video.
Where to find Scott S. Phillips online
Books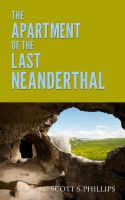 The Apartment of the Last Neanderthal
by

Scott S. Phillips
A young man, inflicted with terrible insecurity, finds himself on a path of discovery after the strangest of insults. Is it simply a case of social anxiety, or is it something more? Anyone who feels like an outcast or a freak should appreciate this bizarrely uplifting short story. From the collection TALES OF MISERY AND IMAGINATION by Scott S. Phillips.
Scott S. Phillips' tag cloud