Scott D Wagner
Biography
'A good tale, always is.' I inner embrace this phrase as being perfectly simple. However, what makes a good tale? That question is the demon that forever rattles around in the mind of every writer.
'A good story, beats good structure every time.' If you hang around a group of writers for any length of time, and I highly recommend that you do not, you will hear this line. It is a phrase that I wholly understand. One that I less wholly embrace.
A good story makes a story good. However, a good story that is given life, is breathe to the reader. An alive story, turns a good one into a great one.
I write with this in mind always. Perhaps it is because I have enjoyed so many of the great authors. I will throw Charles Dickens out there. I would never compare my writing with the Master's. Yet, I just did.
Poetic flow with a mathematical coloring is the only way that I know to write. More right, it is my desire to write this way. My story is the reader's story. Involved love for a character, engaged loathing for a character, this is my goal for my readers. My gift to the reader. My thoughts, my emotions, my senses, all need to be my reader's. The characters thoughts, the characters emotions, their senses, all must live in the reader. If I have given birth to live alive in a story, my task is complete.
I understand that my writing style is may not be for all. I have been told my writing is Old School Modern Classic. I smile. No better compliment.
I love to converse with readers. email me:sdwagner@outlook.com
Read on!
Books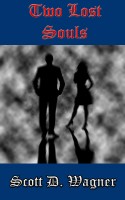 Two Lost Souls
by

Scott D Wagner
Two Lost Souls continues the tale of Incident at Monticello. The Chosen words series is a sequential series. All books are meant to be read in order. Two lost Souls continues to follow the Rengaws and friends. Also their enemies. New characters are introduced. New story lines develop, and a unique perspective is introduced. The creative writing style of Scott D Wagner flourishes in this novel.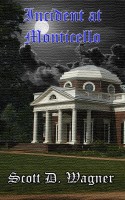 Incident At Monticello
by

Scott D Wagner
In this Modern Classic, Daniel Rengaw is new to Notoriety. His Notoriety is what History wants to channel with. Men, myths, and memories of History, ask Daniel to re-write a wrong. It is the doings of History that help drive the tale. The obstruction is that History doesn't always drive a true path. Maybe more true, and unsettling to Daniel, History leans against a post in the shadows of his mind.
Scott D Wagner's tag cloud