Richard Bann
Biography
I love to write, both words and music, but at the moment I am concentrating upon the word. I'd like to introduce you all a new character I found in the realm of the "magi nation". His name is Vladimir Banovski and he, as well as many others have been whispering stories in my ear for a very long time. You may read about his story in the book, "The Gospel according to Vladimir Banovski." I was born in Hammersmith, London but I now live in the North of England and will hopefully be working hard on many creative projects over the coming months.
Books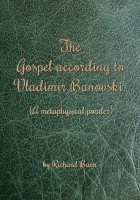 The Gospel According To Vladimir Banovski
by

Richard Bann
Two seperate realities become entwined, Jacob Aaronson and Vladimir Banovski. Over one hundred years lay between their lives and yet they become dependant upon each other. A metaphysical tale of electromagnetic machines, demons, angels and the vast realm of the imagination.
Richard Bann's tag cloud