SeaStorm Press
Publisher info
SeaStorm is an 'author-centric' indie epublisher that publishes and distributes ebooks and audiobooks, establishes social media accounts and creates websites. SeaStorm distributes ebooks via Smashwords, Ingram, Amazon, Barnes & Noble, Google, and Scribd. Publisher Website: For review copies or interviews please contact : LeighAnne@SeaStormPress.com.
Where to find SeaStorm Press online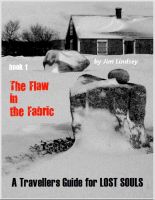 The Flaw in the Fabric, book 1 of A Travellers Guide for Lost Souls
by

Jim Lindsey
A literary, historical adventure set along the Granite Coast of Nova Scotia where the boundaries of space and time are developing stress cracks. Through one such crack, brought on by a hurricane in the ghost-infested province of Nova Scotia, two brothers reincarnate after spending two hundred years as lost souls in the neither-here-nor-there land of the In Between. Hero Raymond slips back in time.
SeaStorm Press' tag cloud