Sean McCready
Biography
Sean McCready is a freelance writer and editor. Born in Washington, D. C., he enjoyed a youth misspent in the hinterlands of the upper Midwest prior to graduating from the University of Michigan with a degree in English literature. Over the course of a year's work at a publishing house in Detroit he contracted a chronic case of wanderlust and has since become an avid traveller. Supported by abiding interests in languages, foreign cultures, and exotic food, he has made his home variously on four continents. Black Wolf: A Samurai Tale is his first novel. He currently lives out of his backpack and can be found somewhere in Eurasia writing his second book.
Books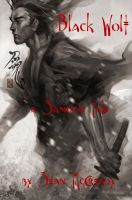 Black Wolf: A Samurai Tale
by

Sean McCready
A samurai warrior living in an age of bloodshed and civil strife, Takakazu believes in two things: fidelity to his lord and the deadly potency of his blade. But, after his master is slain by a mysterious assassin, his lust for vengeance prompts a blind search that leads him to the enigmatic Suko, a woman who embodies the choice he must make between personal enlightenment and self-annihilation.
Sean McCready's tag cloud