Sekgweleo Harry Pelosera
Biography
Pelosera Harry SEKGWELEO was born and raised in Taung. He has spent several years writing short stories for DRUM MAG; till the decision to go on my own. I am based in MAHIKENG (NORTH WEST, SA), and work at Rekopantswe AO as an English Subject Advisor. Writing is my forte; my approach is skewed towards comedy. I find a great deal of fascination from things in my neighbourhood. The things I have lived, seen and experienced. I also trust the medium of short stories is apt to easily promote the culture of reading which seems to be dissipating among our people. See you around and Cheers
Books
Who am I to Judge
by

Sekgweleo Harry Pelosera
WHO AM I TO JUDGE is about unique but familiar individuals. The themes in this book revolve around ingenuity, love, mysticism, audaciousness and much more. They are serenaded in a tapestry of song, dance and humour.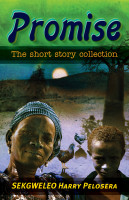 Promise
by

Sekgweleo Harry Pelosera
The stories in this anthology capture the livelihood of your man-on-the-street type, often cast in very complex situations where it is either sink or swim. These are the people you have met; trapped in the quagmire of survival amidst trying times.
Sekgweleo Harry Pelosera's tag cloud