Martin Weiker
Biography
About Martin Ross Weiker
Born in Denver, Martin Ross Weiker studied political science at The George Washington University. He returned to Colorado, where he received a BA in International Relations from the University of Colorado.

A professional photographer, Weiker became fascinated with the attacks of 9/11, struck by the incongruity of the official story, when compared to readily available photographic and video evidence to the contrary.
Books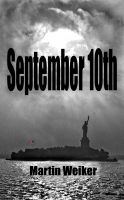 September 10th
by

Martin Weiker
(4.00)
The official account of the attacks on September 11, 2001 is a good story. It's just not good enough. Read history as it happened. Go right to the source, with links to contemporaneous news sources, video archives, official transcripts and declassified government documents.
Martin Weiker's tag cloud