Sequoia
Biography
Hi, I'm Sequoia, a self-confessed nymphomaniac and I really, really, really love sex! Any time of day or night, I'm rearing to go and never seem to be able to get enough of it. I see no problem with being who I am, other than there seems to be enough men available to satisfy my insatiable needs.
And I'll always take it how it comes, so to speak. I have no particular preference. I can do North and South, Top and Bottom, Front and Back, and everything in-between! Just keep it coming and I'm all yours for however long you need me. But be warned . . . I don't let go. Once we get started, I don't stop until something gives, one way or the other.
As you can imagine, my craving has led me to some extremely fascinating and erotic situations, many of which I have decided to publish here, based on my journal entries.
I have kept a journal for as long as I can remember, and after each . . . shall we say, 'adventure', I always make a few notes about the man I have just been with; his technique, how he made me feel, whether he managed to satisfy me and some intimate details about how the session proceeded.
As I don't mince my words, my stories are hard-core and gritty and definitely intended for a mature and adult audience only. If you are in any way squeamish, or unfamiliar with carefree, uninhibited sexual techniques and practices, my stories will probably make your hair stand on end. On something stand on end anyways . . .
I like my men to know what they're doing in the sack (or wherever we happen to be). I crave orgasms and need them frequently. The more a man explores my body, the more I like it. And if he is uninhibited, well, we can end up anywhere.
I also enjoy satisfying the men I am with. As a woman, I like nothing more than watching a man as he expresses his manhood and reaches that incredible pinnacle – the point of no return. By this stage, I am hot on their heels and usually follow their lead. And from there, well, I don't really care. I am so wrapped up in my own Nirvana that I just let it all hang out and drop any inhibitions, which really turns my man on even more.
We all do sex, but it's *how* we do it that makes the difference. Some men are better than others in satisfying my needs, and when I do find a good man, I will visit him frequently to get my fix.
My stories contain vivid, nitty-gritty descriptions of sexual acts between a man and woman and are written to include my readers and make them feel as if they are right there with me, witnessing and experiencing my experiences first-hand.
If you're looking for soft, flowery romantic stories, that's not me. But if you crave wild, hard-core bedroom scenes with no holds barred, read on. I'm sure there's something that will either drive you wild or make you wish that *you* were on my infamous 'calling list'.
Who knows, perhaps one day you will be.
Keep your eyes open for me; I'm usually not very far away, and tonight could be your lucky night. In the meantime, feel free to read my stories and dream about what you would do with me if we were alone together, me as horny as hell and you ready to show just how much of a man you really are. Whatever you're got, I can take it, so bring it on and lets see where we end up. I can promise that you'll love it!
Don't forget the baby wipes and lube, guys and girls - it can get messy sometimes reading my stories.
Books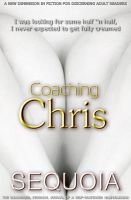 Coaching Chris
by

Sequoia
I was feeling hornier than ever and Chris was just a young kid. Little was I to know that he would make me experience several orgasms I never imagined possible. He managed to do what a few full-grown men can only dream of. From now on, I will never dismiss the younger generation as being unable to satisfy my insatiable cravings for sex. [6300 words]
Being Bob
by

Sequoia
When I need a good sorting out, there's only one man for the job – Bob. He's got what it takes and understands the difference between coming and going. Here I reveal, in great detail, just why I go to Bob whenever I have an itch that needs scratching. I can always rely on Bob to hit the spot, and he always ensures that I leave him feeling completely satisfied. [5600 words]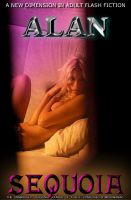 Alan
by

Sequoia
Self-confessed nymphomaniac, SEQUOIA, takes us on a very private and very intimate journey with her latest 'visitor', Alan, who is in for the ride of his life. Will Alan meet Sequoia's criteria, or be just another flash-in-the-pan? The first in a series of twenty-six stories. Hard, gritty and definitely ADULTS only.[2700 words]
Sequoia's tag cloud