Barbara Barlow
Biography
Barbara Barlow grew up in the polygamous culture being 33rd and last child living in her family. After joining the Air Force to put herself through college in Salt Lake City, Barbara Barlow went on to become a business owner and leader in a community of spiritual growth-minded people while living in Kansas City. She returned to Salt Lake to help publish Seventeen Sisters, a joint venture with her sister Virginia Webb where she still lives today.

Virginia B Webb was born the 16th child of her father's 34 and her mother's 13 children. She gave birth to eleven children and then divorced. After getting some college under her belt she remarried eight years later. Her father, Albert Barlow kept prodding her to write his story and eventually she agreed on the condition that he would just tell her stories but not dictate how she would write the book. That book was called "Wildcats, Wagons, Wives and Wardens" and was enjoyed by most of her family. After she turned seventy she had the idea to convince her living sisters to write/tell their stories for her and she would put those stories in a book. "Seventeen Sisters" is the result of that effort and would not have happened if her baby sister hadn't stepped in to take on the huge job of getting it into print.
Books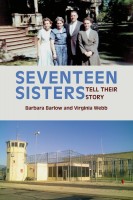 Seventeen Sisters
by

Barbara Barlow

&

Virginia Webb
This series of seventeen stories focuses on the Barlow family, a family that epitomized the Mormon, polygamous lifestyle. It was led by Albert Barlow, a father of thirty-four children and a husband to three women for over fifty years. The seventeen living daughters of Albert's family here to tell their story. They have seen it all, they have experienced it all.
Barbara Barlow's tag cloud