Melanie Bray
Biography
Melanie is currently attending Full Sail University pursuing her Bachelors' in Creative Writing. She is scheduled to graduate in November of 2014. When you hear or read the name, Melanie Bray, you probably find yourself feeling one of two ways. "Yay!" or "Oh no!". Her message is not one that is accepted by all and that suits her just fine. While her intention is not to offend, she does not care if you like what she has to say. While she stands firm in her opinions, she respects every ones right to have a different one. She gives a voice to the "underdog". She is spreading the message of acceptance, of self and of others.
Books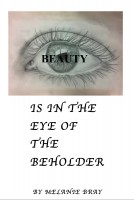 Beauty is in the Eye of the Beholder
by

Melanie Bray
A flash fiction that examines what beauty really is. Read what happened to Liz in her efforts to become "perfect". Does beauty lie in flawless imperfection or is beauty more than skin deep?
Melanie Bray's tag cloud