Abdul Wahed Shaik
Biography
Shaik Abdul Wahed hails from Kota Bharu, Kelantan. Shaik did his schooling at the Sultan Ismail College and then at the Anderson School in Ipoh and finally did a course in engineering in Melbourne. Shaik is a professional engineer and principal of a practicing engineering consultancy organisation. Shaik has some 50 years of engineering industry experience. Shaik has been a foundation contractor, a non-destructive tester, a quality control specialist, a site investigation specialist and finally a consulting engineer. He is actively involved in issues of quality in engineering and construction. He has written a number of papers, multimedia training guides and videos on training/awareness on subject of quality and good practice, particularly in site investigation and slopes.

Shaik has been involved in number of slope related projects with Public Works Department, notable of which being rehabilitation of some 140 massive slopes failures along East West Highway, rehabilitation of slopes related disstresses in some 200 schools, study of slopes along some 300 km of hilly terrain along Tamparuli-Sandakan roaad in Sabah. Experience gained here inspired book titled "Slopes Made Simple" aimed at non-engineers living with slopes. Shaik is also self made cartoonist looking maily at civil engineering and construction industry and able to see funny and ridiculous side of the industry where laughing at self is just not on.
Books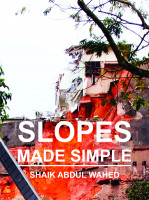 Slopes Made Simple
by

Abdul Wahed Shaik
Slopes Made Simple is a practical book on slopes that was written for non-engineers. While it was originally conceived to explain the nature and causes of landslides to a layman audience, the book evolved to become a primer of slope safety for homeowners and residents living on or near slopes; a guide for homebuyers; an educational resource for students; and a useful resource for residents.
Abdul Wahed Shaik's tag cloud