Shakita R. Dixon
Biography
Shakita R. Dixon is an acclaimed author of four novellas published under her pen-name, Racq Symphony. She is the owner and founder of Racq Symphony Publishing. She is the mother of one teenage daughter, who is an aspiring author and future movie/video director and producer. A graduate of St. Petersburg College, Shakita holds a Bachelor's degree in Management and Organizational Leadership as well as a Master's degree in Public Administration . Also a Philanthropist, Shakita has served in several leadership capacities in the workforce as well as a few churches, including her current church. She brings life and light to matters of the heart and matters of business through her writing, experience and her life.
She is an acclaimed author and also founder of Racq Symphony Publishing.
Books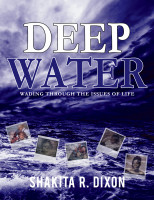 Deep Water
by

Shakita R. Dixon
A riveting memoir, Deep Water, was finally penned by Shakita in late 2015. Shakita, growing up on the Southside of Montgomery, AL, never thought that she would grow up to have a story that would touch and heal so many people, while also providing healing for herself. Grab some tissue, a blanket, a big slice of Red Velvet cake and dive into Deep Water.
Shakita R. Dixon's tag cloud