Shamez Kassam
Biography
Shamez Kassam, MBA, CFA, is a 2004 graduate of Columbia University's Graduate School of Business in New York City, where he majored in finance and economics. He holds the Chartered Financial Analyst (CFA) designation from the CFA Institute. Before entering finance, he completed an undergraduate degree from the Faculty of Rehabilitation Medicine at the University of Alberta and worked as an occupational therapist for 5 years. He spent the first several years of his finance career working with institutional investors, including BNP Paribas and Alberta Investment Management Corporation, and then began working with individual Canadian investors in 2010. Shamez firmly believes that all investors can be successful by following key principles, managing their emotions, and avoiding big mistakes. He is passionate about improving the financial literacy of Canadians, with a focus on improving financial education in the Canadian school system. A person who stutters, Shamez serves on the Boards of the Institute for Stuttering Treatment and Research Foundation and Accessible Housing Calgary. Shamez is a financial advisor and licensed to provide investment advice in Canada and the United States. He lives in Calgary with his wife and 4 year old son.
Books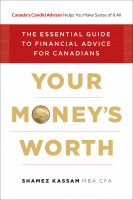 Your Money's Worth: The Essential Guide to Financial Advice for Canadians
by

Shamez Kassam
What will your retirement taste like—cat food or steak? Good advice can make all the difference! Your Money's Worth: The Essential Guide to Financial Advice for Canadians not only covers must-know concepts in the areas of investing, insurance, and retirement and estate planning, it also unveils the seemingly bewildering structure of the financial advice industry in Canada.
Shamez Kassam's tag cloud