Shaneka Briggs
Biography
My name is Shaneka Briggs. I am a 21 year old poet, writer, singer, songwriter, and English major at Cheyney University of Pennsylvania. I am from the state of New York, currently located in the city of Philadelphia, and forever wandering. My purpose is to study literature, to be a mentor to colored youth, and to educate. Much of my writing is centered around my experiences as a Black woman and the experiences of those who I have known at varying periods of my life. I believe that knowledge is wealth, but creativity is nourishment for the spirit.
Where to find Shaneka Briggs online
Videos
Where I Come From
In this video you can find my performance of my spoken word poem "Where I Come From". My performance is the second one of the show.
Books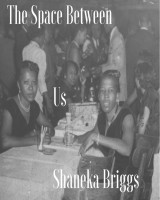 The Space Between Us
by

Shaneka Briggs
The Space Between Us is a short work that follows the stories of several Black women as they learn to become a unit. The forming of their sisterhood is strengthened by an unexpected tragedy. The women are learning about the state of their mental health, the role that their pasts have played on their current lives, and how to love on various levels.
Shaneka Briggs' tag cloud