Shannon Hunter
Biography
Shannon Hunter is a dreamer and wanderer. She loves a good story, and can weave a deep hole in the world in the attempt to get to the best understanding all who live and breathe there. Welcome to her world, where horses, dogs, cats and all sorts of critters have their own thoughts and dreams and stories to tell. Shannon lives wherever she damn-well pleases, and moves on in the flash of a distant fancy. She will be where the stories are rich in the ground-swell of need and completion. Yes, she may appear to be off with the fairies, but that's what happens when you chase story.
Where to find Shannon Hunter online
Books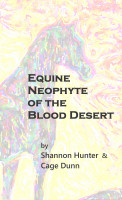 Equine Neophyte of the Blood Desert
by

Cage Dunn

&

Shannon Hunter
The gift from the desert, an orphan, dreams of escape from servitude in the City of the Wall and the cruel Master of Gold – to chase her dream of the Red Desert horses and the Wild Magic.
Shannon Hunter's tag cloud