John Sharpe
Biography
I'm a native Coloradoan, coming from a family of ranchers, miners and lawmen with a couple of teachers thrown in for extra credit. I spent several years in the magazine business where I honed my writing skills and increased myknowledge of the livestock industry. Even if you've never been west, saddled a horse or handled a lariat, I try to write so you feel like you are there and one of the hands.
Where to find John Sharpe online
Books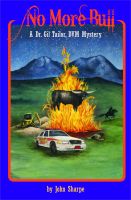 No More Bull
by

John Sharpe
Veterinarian Gil Tailor takes a temporary job in a small Colorado town to escape his painful past. But his past gets there first. When Gil is accused of killing his best friend, a $100,000 bull, a winning race horse, half a herd of dairy cows and one local son-of-a-bitch, he is forced to save his reputation, career and eventually his life in order to prove his innocence.
John Sharpe's tag cloud