Sheena Williams
Biography
It kind of goes without saying that I love to write! I can't tell you when it started. I just know it's something that I've always loved to do. I love different types of stories, and different types of writing and nothing makes me happier than hearing when someone has enjoyed something I've written. I write a lot of fantasy and horror, and maybe a smattering of sci-fi. I love monsters and mythological creatures of all types, and they appear in my work pretty often. Along with writing, I love to read! My personal library is silly with books of all sorts. Travel, romance, murder mysteries, how to's, art, biographies, and graphic novels have all found a way of filling up my shelf space.

My creative writing work has previously appeared in magazines like "Gothic Fairy Tales for Melancholy Children" and "Mirror Dance". My non-fiction work includes my book "Computers 101" published by Adapt Companies, and as a contributor for "CampusJobXpress.Com" and currently "Zombie Guide Magazine".
Books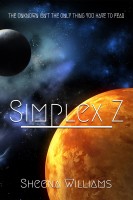 Simplex Z
by

Sheena Williams
In the year, 2302 earth's inhabitants are at war with the offspring of a mutated virus. Zombies have become more than just desperate shamblers. They are now controlling legions of undead in an effort to enslave human kind. The only thing standing between humans and zombies are hybrids called Z9's.
Sheena Williams' tag cloud