Sheka "Miss Mama Queen" Benford
Biography
Sheka "Miss Mama Queen" Benford is a Hip Hop Recording Artist, Song-Writer, and Amateur Author from the small but growing city of Murfreesboro, TN (30 Miles outside of Nashville). She is mostly noted for her songs' Lyrical Content and Story Telling. A majority of Sheka's fans know her as "Miss Mama Queen" or "Queen" for short, a name that she adopted in 2008. Since entering the Music Industry, Sheka has worked in Booking & Managing many Major and Rising Hip Hop & R&B Artists. As of 2014, Sheka is working on her first Studio Recorded Album, under Rising Independent Hip Hop Label, We Go Hard Entertainment.
Where to find Sheka "Miss Mama Queen" Benford online
Books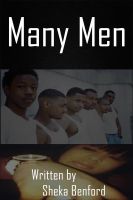 Many Men
by

Sheka "Miss Mama Queen" Benford
Welcome to the Fast-Paced world of Tyra Alexander, a beautiful, raped, talented, tormented, hope-filled black girl growing up in small town Murfreesboro, Tennessee.
Sheka "Miss Mama Queen" Benford's tag cloud