Shirley J. West
Biography
I received the Lord in 1978 on Christmas Eve. I listened to the New Testament Bible tapes and have read the Bible KJV through numerous times. I have never been a reader of novels, however I do love to read God's word and study it. I use Strong's Exhausted Concordance of the Bible for definitions for extended help, however my greatest helper is the Holy Spirit who has led me into the truth of God's word.

Over the years I have had dreams and visions. This book has come from a vision, each chapter title, I would be speaking as I was waking up in the morning; just I was having a conversation with someone. I would get up and write the title down, however the chapter on The Passion of Jesus came from a strong feeling in my heart to write.
It was in the 80's that I had received this word from the Lord, it is II Timothy 2:15. Study to show yourself approved unto God, a workman that needs not to be ashamed, rightly dividing the word of truth. I pray that I have done that.

I would love to hear from my readers!
Please feel free to email me at shirleywest35@icloud.com

Thank you, Shirley Wester.
Books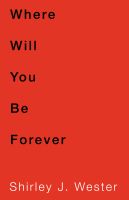 Where Will You Be Forever
by

Shirley J. West
The Bible is the living history of our existence and the future of our forever. Whether we believe or disbelieve God doesn't change his existence to our beliefs.
Shirley J. West's tag cloud