Shoestring Ventures, LLC
Publisher info
Shoestring Ventures, LLC is an independent publisher.

We support Free Speech, the 1st Amendment, Peace, true non-denominational Spirituality, Non-Violence and Participatory Democracy.

Our writers contribute to free and open democratic dialogue and the advancement of our society and our great nation, the United States of America, in the forms of visionary fiction as a sub-genre of New Age and metaphysics (Frank Silva), satire & comedy (Dick Grizzly), and satirical social and political commentary (Orwell Kafka).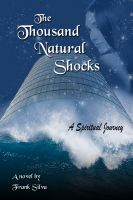 The Thousand Natural Shocks
by

Frank Silva
(5.00)
We are all connected at our deepest levels. Shalimar is a workaholic Spirit Guide and supervisor of guides who must incarnate again with her soul mate Jackson or lose him forever, but unresolved Karma from a past life is holding her back. She is also assigned Angie, a free-spirited, party girl to train as a Spirit Guide. It is coming down to decision time for Shalimar. What will she do?
Shoestring Ventures, LLC's tag cloud