Shveta Thakrar
Biography
Shveta Thakrar is a writer of South Asian–flavored fantasy, social justice activist, and part-time nagini. Her work has appeared or is forthcoming in Flash Fiction Online, Interfictions Online, Mythic Delirium, Uncanny, Faerie, Strange Horizons, Mothership Zeta, Kaleidoscope: Diverse YA Science Fiction and Fantasy Stories, Clockwork Phoenix 5, Beyond the Woods: Fairy Tales Retold, A Thousand Beginnings and Endings, and Toil & Trouble. When not spinning stories about spider silk and shadows, magic and marauders, and courageous girls illuminated by dancing rainbow flames, Shveta crafts, devours books, daydreams, draws, travels, bakes, and occasionally even plays her harp.
Where to find Shveta Thakrar online
Books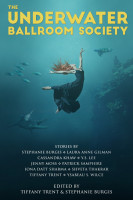 The Underwater Ballroom Society
by

Y S Lee

,

Stephanie Burgis

,

Tiffany Trent

,

Ysabeau Wilce

,

Shveta Thakrar

, &

Patrick Samphire
Welcome to a world of sparkling adult fantasy and science fiction stories edited by Stephanie Burgis and Tiffany Trent and featuring underwater ballrooms of one sort or another, from a 1930s ballroom to a Martian hotel to a grand rock 'n roll ball held in the heart of Faery itself. Stories by Ysabeau Wilce, Y.S. Lee, Laura Anne Gilman, Cassandra Khaw, Patrick Samphire, Shveta Thakrar and more.
Shveta Thakrar's tag cloud