Siddhartha Gautam
Biography
Siddhartha B. Gautam earned his PhD in financial economics and is a devoted scholar of the Vedic scriptures. Uniquely qualified to bridge Eastern and Western cultures in this practical guide to happiness, Dr. Gautam has more than forty years of experience as an educator and motivational speaker as well as a lifelong interest in spirituality, meditation, and yoga. Born and educated in India, he became a successful entrepreneur in America before joining the faculty of Methodist University in Fayetteville, North Carolina, where he founded the Center for Entrepreneurship and has served as its director for thirty-eight years. Being intimately familiar with both finance and entrepreneurship, Dr. Gautam also realized that success in business does not always translate into personal happiness. Dr. Gautam is in demand as a motivational speaker at international conferences and conventions and has traveled to more than thirty countries, addressing fifteen to twenty such audiences each year.
Where to buy in print
Books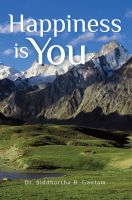 Happiness is You
by

Siddhartha Gautam
A self-help guide that combines the ancient wisdom of India with the practical knowledge of America to demonstrate how we can all live happier lives.
Siddhartha Gautam's tag cloud