Susan Dryg
Biography
I grew up in the San Francisco Bay Area, graduated from SJSU in Speech Communication, was a supervisor at Intel, worked at NCAR in Boulder Colorado doing printed circuit board design, and have had a life time of addiction to the Presence of God.
My life has been filled with challenges, defeats and victories. Through them I have learned volumes, which I wish to share with others.
I am presently running 5K and 10K races, several 1/2 marathons, and a marathon.
Books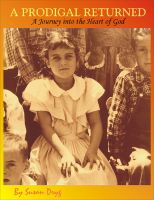 A Prodigal Returned
by

Susan Dryg
There are no "special" people with God. There are only those who are close to Him and those who are far away. Jesus died on the cross and was risen from the grave to unite us with the Father. This book of remembrance shares with you the battle of the devil that raged against me to keep me from knowing that the heart of our Heavenly Father longs for one thing, to embrace each of us just as we are!
Susan Dryg's tag cloud