Silver James
Biography
Silver James likes to take walks on the dark side and coffee. Okay. She loves coffee. LOTS of coffee. Warning: Her Muse, Iffy, runs with scissors and can be quite dangerous. She's the author of the best-selling Moonstruck series and new urban fantasy series, The Penumbra Papers. She's been a military officer's wife, mother, state appellate court marshal, airport rescue firefighter and forensic fire photographer, crime analyst, technical crime scene investigator, and writer of magic and mystery. Now retired from the "real world," she lives in Oklahoma and spends her days at the computer with two Newfoundland dogs, the cat who rules them all, and myriad characters all clamoring for attention. She writes dark paranormal thrillers, time travel romance, and light contemporary with a kiss of suspense. To find out more about Silver, visit her at www.silverjames.com, email her at silverjames@swbell.net, or follow her infrequent tweets at @SilverJames_.
Where to find Silver James online
Series
Books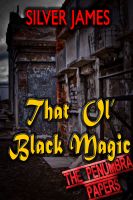 That Ol' Black Magic
by

Silver James
Sade Marquis, human FBI agent with an X-Files mentality--it's her job to deal with things that go bump in the night. She's on the trail of a serial killer preying on magical beings. Her investigation is hampered by old loyalties and a new complication in the form of an arrogant dragon enforcer. When guilt and innocence play in the French Quarter, only Sade's brand of crazy can sort it out.
Silver James' tag cloud