Wolfgang J. Taumberger
Biography
Born in the nineties in the western outskirts of Vienna, Austria, Wolfgang is pursuing his dreams of bodybuilding, studying nutrition science and, well, writing. Even though writing has been a great passion of his since as long as he can remember, it wasn't always possible to exercise this fervor, either because of a lack of knowledge of the English language or a lack of knowledge as a whole or maybe the fact that he keeps working part-time next to his studies and training.
He is a start-up but everybody has to start at some point he figured and so, well, there I go...
Books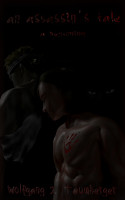 An Assassin's Tale: A Beginning
by

Wolfgang J. Taumberger
Some in this world are chosen to wield a power far beyond humanely imagination and some to undo them once they grow arrogant in their strength. This is the tale of an Assassin, a protégé heir to a wealthy family and a smith's apprentice. Nothing do they share except for one hidden latency. But will they live to know? And which side will they approach in order to found the new order of the world?
Wolfgang J. Taumberger's tag cloud