Sue Skiff
Biography
Hi! I'm Sue Skiff. I have been an animal lover all of my life; especially dogs. In 1992, I adopted a 6, or so, month old puppy named Jake, who had been found in the mountains by a co-worker. Jake was a great friend, but he became aggressive towards other animals and select people. In order to save his life, and to save myself the pain of having to deal with an aggressive dog, I embarked on a journey of learning about dog behavior. I worked hard with Jake, who I later renamed Silver. With help, I got him passed his aggression. Ever since then, I have endeavored to help others who are having difficulty with their dogs. I so love helping others, and interacting with the dogs. In September, I suddenly got the urge to write about dog behavior, and here I am with a completed e-book; "How to Have a Well-Behaved Dog." One of my oldest ambitions was to be a writer, and now that I have completed one book, I am sure there will be more to come.
Where to find Sue Skiff online
Books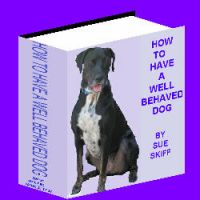 How to Have a Well Behaved Dog
by

Sue Skiff
This comprehensive book on dog behavior and dog training contains simple instructions for dog guardians. Inside this book, lies information on preventing dog behavior problems; houswe training; becoming the leader, without having to be dominant or "alpha-dog;' dog obedience training using positive reinforcement techniques such as clicker training; and solutions for jumping, chewing, anxiety, etc.
Sue Skiff's tag cloud