Joseph Sheppard
Publisher info
Joseph Z. Sheppard is a life-long writer who was diagnosed with autism as an adult. He is a father of three, holds undergraduate degrees in philosophy and psychology, practices Judaism, facilitates a writing group for adults with autism called "Authors with Autism," and is editor for "Autism's Own," a peer-review journal featuring written work by persons with autism. He also serves as Co-Director for the University of Victoria's Centre for Autism Research, Technology, and Education, and is presently working on graduate level psychology.
Books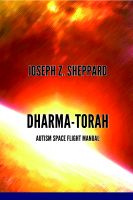 Dharma-Torah: Autism Space Flight Manual
by

Joseph Sheppard
Kabbalistic autism science fiction has arrived. Yosef discovers a quantum spaceship constructed out of kabbalistic concepts. He is not sure what to expect, but soon encounters helper beings that help him navigate the mystery. Journey with Yosef as he learns how freedom unlocks a doorway into new worlds. Interspersed are prosaic groupings of philosophical ideas that form the spaceship's canopy.
Joseph Sheppard's tag cloud