Sirloin Furr
Biography
Sirloin Furr is a 29 year old Caucasian male. From the dawn of his genesis, he's been heavily inebriated by music and film, endowing him with a prenatal awareness for eccentric story telling. This awareness sparked a fuse that sent him to Temple University, where he was spoon fed a secondary education of english literature and philosophy that spawned the beginning of Awful, Ohio, while strolling down Norris and 12th street in Philadelphia in 2008. Although no longer living in Philadelphia, this prenatal awareness remained within, following him back to York County, where he currently resides with his wife and daughter. When not project managing at his job, inventing absurd products, jamming his guitar with sloppy chord changes, and engineering new plot lines for upcoming novels, he enjoys his days with his wife. They both spend their time fending off the demonic mortgage monster that attempts to devour their savings, but also engage in whatever activities attract their routinely altering interests. Currently, they are fixated on event directing and salads.
Where to find Sirloin Furr online
Books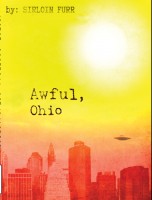 Awful, Ohio
by

Sirloin Furr
(5.00)
"An intriguing monster." Troy Slushy's exposure to his life-decimating job, depressed wife, and crumbling home encourage his desire for a life in perpetual darkness. It becomes his objective to destroy the bright, menacing beast that removes him from the ecstasy of his dreams, only to expose him to all of these worthless possessions. Troy Slushy declares that his mission is to destroy the sun.
Sirloin Furr's tag cloud