Skian McGuire
Biography
Skian McGuide is a working-class Quaker leatherdyke who lives in the wilds of Western Massachusetts with her dog pack and a collection of motorcycles. Her work has appeared in Best Lesbian Erotica, Best Bisexual Erotica 2, Rode Hard, Put Away Wet, The Big Book of Erotic Ghost Stories, On Our Backs, Lipstick on Her Collar, and a variety of webzines including Suspect Thoughts and Scarlet Letters. She's a past champion of the Amazon Slam (a Best of Boston poetry venue) and her slam poems have appeared in Pinned Down by Pronouns and I Do/I Don't: Queers on Marriage. Skian is also editor of the online journal The Shadow Sacrament, devoted to publishing work that relates to the intersection of sex and spirituality.
Where to buy in print
Books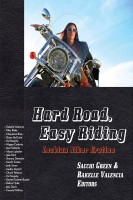 Hard Road, Easy Riding: Lesbian Biker Erotica
by

Sacchi Green

(editor),

Rakelle Valencia

(editor),

Rakelle Valencia

,

Toby Rider

,

Cheyenne Blue

,

Skian McGuire

,

Val Murphy

,

Nipper Godwin

,

Jean Roberta

,

Alison Laleche

,

Jake Rich

,

Shanna Germain

,

Sacchi Green

,

Judy Snow

,

Muffin McGill

,

Chuck Fellows

,

Rachel Kramer Bussel

,

Debra Hyde

,

Jess Davis

, &

Connie Wilkins
Take a ride-on the wild side with Hard Road, Easy Riding. Sex should be intense, joyful, and liberating--exactly as written in these edgy and uninhibited stories. While there are many anthologies of lesbian erotica available, none so far have focused on the interaction between the lifestyles and sexual adventures of lesbian bikers. What's sexier than a hot woman, clad in form-fitting leather?
Skian McGuire's tag cloud