T. Howard Somervell
Biography
Theodore Howard Somervell OBE, FRCS (16 April, 1890 – 23 January, 1975) was a British surgeon, mountaineer, painter and missionary who was a member of two expeditions to Mount Everest in the 1920s, and then spent nearly 40 years working as a doctor in India. In 1924 he was awarded an Olympic Gold Medal by Pierre de Coubertin for his achievements in mountaineering.
Books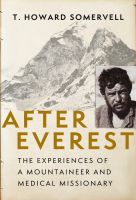 After Everest: The Experiences of a Mountaineer and Medical Missionary
by

T. Howard Somervell
The memoir of the remarkable T. Howard Somervell, best known for his role in the British expeditions to climb Mount Everest in the 1920s, including the legendary second attempt during which George Mallory and Sandy Irvine vanished on their way to the peak. Somervell also recounts his early climbing days in Europe, the horrors of the front during WWI, and his medical work among the poor of India.
T. Howard Somervell's tag cloud