Sonali Kumar
Biography
Senior IAS (Indian Administrative Service) officer SONALI KUMAR was the FIRST "outsider" "non-state subject" lady IAS officer to be allotted to J&K cadre with a batch of 1979. She has thus worked in the J&K cadre for 36 and a half years and has spent another year watching events unfold as Arun Kumar, her husband, was still in the IAS there.

During this period, Sonali has held in both Government of India as well as in the Government of Jammu and Kashmir assignments related to industry and commerce (including PSUs), textiles (handlooms & handicrafts), education, welfare, forests and environment, agriculture, horticulture, co-operatives, rural and urban development, health and medical education, anti-drought prone and anti-desert area development programmes, revenue, judicial, and even disaster relief operations.

Her myriad experiences spanning all kinds of sectors have, she believes, equipped her with the powers of ideation, problem-solving, out-of-the-box thinking, and strategic policy insights that only a long stint in IAS probably can endow one with. This is the experience that she thinks she needed to share in the background of this constant national and international focus on the Kashmir Problem.
Books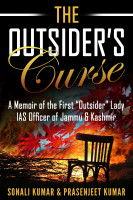 The Outsider's Curse: A Memoir of the First "Outsider" Lady IAS Officer of Jammu & Kashmir
by

Prasenjeet Kumar

&

Sonali Kumar
You will find plenty of books on Kashmir by politicians, journalists, army officers, Kashmiri Muslims and Pandits narrating their experiences. BUT you will never find—an outsider IAS officer's perspective.
Sonali Kumar's tag cloud