Sophie James
Biography
Sophie James was born in Cheshire, England and moved to Perth, Australia at fifteen but her love of fantasy and poetry followed her. She is currently volunteering for Colosoul Magazine, an online publication for teenagers and young adults, she has had her articles published which are focused around social issues, reviews and opinion pieces.
Since a young age, Sophie has had a love for performing and it was when she realized that instead of acting out the lines that will change the world, she could write them and that is when she put pen to paper and began her journey.
She likes to write with an honest and open mind, this helps her write pieces that tackle serious issues others may shy away from.
Books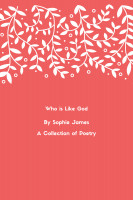 Who is Like God
by

Sophie James
A love that runs so deep, the pit of your stomach seeps of fire, the fear of that, the loss is too unbearable. How could you survive? This collection of poetry is about the love and loss of women in the century where image is everything and the strength of your character isn't. Themes of womanhood, love, loss and the strong women in our families that live in all of us.
Sophie James' tag cloud