Jane Elsdon
Biography
Jane Elsdon started writing for publication at mid-life. She has been published in numerous literary journals, anthologies, and magazines. Her short story, "Blue Feather's Quest" was awarded first place in Crosscurrents' First Annual Short Story competition in 1981 and was nominated for Pushcart Prize. Two poetry chapbooks received Honorable Mentions from Pudding House Publications. SHADOW WORK was published by them. Elsdon has published a children's novel, a full-length book of poetry, OUTDISTANCING DARKNESS, two limited edition ekphrastic books of visual art and poetry which she did with the late Beverly Young: SINGING DREAMS INTO FORM and THE LIVING DREAM, and two additional chapbooks, MORNING AND OTHER GLORIES and IN THE RAIN SHADOW. Her poems appear in POEMS FOR ENDANGERED PLACES, along with six other poets known as the Plein Air Poets of San Luis Obispo County. She was poet laureate of San Luis Obispo County in 2005. She writes a monthly column, "One Poet's Perspective," in online journal, SLO Coast Journal.com. She and her husband live in Atascadero, California. She has two daughters, six grandchildren, and one great grandson.
Where to buy in print
Books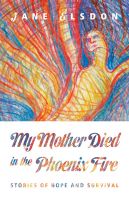 My Mother Died in the Phoenix Fire
By
Jane Elsdon
Price:
$7.99 USD.
Words: 57,480. Language: English. Published: December 13, 2011. Category: Fiction
You won't want to put down this collection of twenty-two tales of survival and hope. Ten of them are published here for the first time. "Jane Elsdon's stories will break your heart—and bind it up again." "Prepare to have your heart, mind, and soul touched."
Jane Elsdon's tag cloud