Spencer C. Truman
Biography
Spencer C. Truman (yes, this is a pen name) loves learning the truth about life, and loves solving various kinds of puzzles, ranging from jigsaw puzzles to the unsolved mysteries of science. Starting on what has become a life long journey, Spencer began writing a book about truth, but realized along the way that truth is not all-inclusive, as had been supposed at the onset. Spencer discovered that truth, a knowledge of all things past, present, and future, can only reside in the conscious minds of living beings, even though it may be stored or retrieved as information on various types of media (hard copy documents, electronic media, computer data, etc.). The author found that it became necessary to first write a book about existence, which is all-inclusive. The author will next focus on the original book (which is still in work). Spencer C. Truman discovered in the process a way to prove beyond doubt the solution to the mystery of the origin of existence! The author identified a common flaw found in both mainstream science and religion regarding beliefs held pertaining to the origin of existence, and presents the solution to that flaw. Spencer also offers an explanation as to why that flaw has gone undetected for so long due to the typical personal paradigm developed from an inherited mortal perspective. The author loves sharing learned truths with others and hopes it will be of benefit to all walks of life.
Books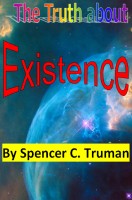 The Truth about Existence
by

Spencer C. Truman
This work presents a new perspective to metaphysics. It proposes that matter is of an eternal nature. It takes on the challenge of proving to readers that the proposal is true by proving that absolute nothingness is an invalid concept. The rhetoric used is elegant, the flow of the discussion is compelling, the logic is flawless, and the conclusion is relevant and exigent.
Spencer C. Truman's tag cloud