Spencer Ratcliff
Biography
Spencer Ratcliff was born and educated in England, completing his journalist training in 1970.
Then, picturing himself as a re-born Robert Louis Stevenson, he set off for the South Seas in search of adventure. He is still there.
His career has seen him live and work in many parts of the world, including Germany and South Africa. Northern Ireland and Rhodesia/Zimbabwe as a war and political reporter; and Australia as the Chief of Staff of a daily newspaper; editor and finally creator, editor and publisher of his own magazine.
For the past 30 years he has lived on the edge of Sydney in Australia's spectacular Blue Mountains.
Books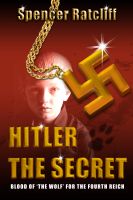 Hitler ~ The Secret
by

Spencer Ratcliff
(5.00)
Hitler never knew his baby survived and Wolfgang never knew who his real father was, but Hess, Bormann and 'Gestapo' Mueller did. Raised by nuns, the boy grows into a fanatical warrior of the Hitler Youth. At war's end Mueller pursues his dream of a new Nazi Empire. He must produce proof of Wolfgang's true ancestry, recover hidden Nazi gold and find Wolfgang as figurehead for the Fourh Reich.
Spencer Ratcliff's tag cloud