Ingrid Stabins
Ingrid Stabins grew up on a rural farm in Pomerania, an eastern province of Germany and lived through the devastation of her home town of Köselitz during World War II. Her life was changed forever when at the age of 16, she, along with thousands of others, were expelled from their homeland when the Soviet Union reshaped countries' borders and resettled Poles into Pomerania.

Much has been written about this war but not much is known about the tragedies of the people forced to leave their homeland without a place to go. These people endured the often cruel forces of the Russian Army in early 1945 as the Soviets fought their way through eastern Germany on their way to Berlin. As a child, Ingrid survived a brutal Russian internment, family loss, and the uncertainty of ever seeing her family again. She clung to hope and a better tomorrow to be reunited with her loved ones.

She immigrated to the United States in 1956 and raised her family on Cape Cod, Massachusetts.
Ingrid Stabins "Give Me Tomorrow" reading and discussion
Give Me Tomorrow author Ingrid Stabins expands on her experiences during this invited presentation on Cape Cod.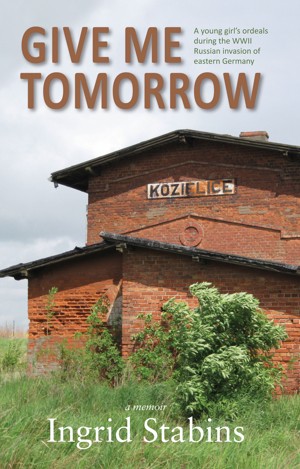 Give Me Tomorrow
by

Ingrid Stabins
This memoir chronicles the early life and tragedies of a young German girl during WWII in Pomerania, as the Soviet Union expelled thousands of eastern Europeans from their homelands and reshaped countries' borders as part of an Allied agreement near the end of the war.