Standswithbear
Biography
Standswithbear has been an intuitive, psychic, and trance channel for over 20 years. His readings and healings have been sought out worldwide, and have been instrumental in changing the lives of the many that seek him for his gifts and accurate intuition. Published author, event speaker, award winning Native artist and musical alchemist. He is also, a Master healer, psychic counselor, radio host and has a long line of countless interviews.
Ever since he was three years old, his guides, teachers, Angels, and Star family have been with him throughout his life and are directly responsible for the many gifts that unfolded.
At the age of seven and a half months, I began to speak complete words. I never quite fit in with the lifestyle that a normal child should have. At the age of eleven months, I spoke full sentences. and as I progressed through my adolescence my teachers in school constantly challenged me with tests far beyond the other children. It wasn't long before I realized there was much more going on behind the illusion we call life.
Books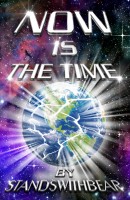 Now Is The Time
by

Standswithbear
Now Is The Time to know ourselves, to be and see ourselves as the truth and light we have always been, no longer the illusion of what you deem as your life or even self but to awaken into the breadth and scope of your TRUE selves and the magic that resides deep within.
Standswithbear's tag cloud