Stephen Fife
Biography
Stephen Fife's plays have been produced in NYC at Jewish Rep, Playhouse 91, Primary Stages, Circle Rep Lab, La Mama, Theater for the New City, the Samuel Beckett Theater, and many other venues. Break of Day, his play about van Gogh's early career, was given a Hollywood production that prompted one critic to write, "It leads lovers of theater to have hope that there is a future for brilliant writers." (That makes two of us.) His work has also been done at 7 Stages in Atlanta, and other regional and college theaters.
He is a graduate of Sarah Lawrence College and Columbia's School of the Arts, and his writing has appeared in the New York Times, Village Voice, and New Republic. He has received several grants and awards, including a Federal writing grant, which seemed like a big deal at the time. He is currently at work on several new projects, including an 11-book cycle called A Short History Of a People Who Can't Remember a Thing About Their History.
Books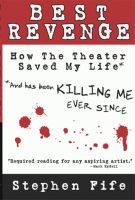 Best Revenge: How the Theater Saved My Life and Has Been Killing Me Ever Since
by

Stephen Fife
Best Revenge is an inside look at contemporary theater and a playwright's shrewd, cutting, yet ultimately sympathetic portrayal of today's America. A quirky, funny, bittersweet chronicle of the struggle and success of an American playwright who realizes his dream: to work with legendary director Joseph Chaikin.
Stephen Fife's tag cloud