Stephen Bradford Marte
Biography
Stephen Marte is a professional writer employed by an international corporation in their creative department, as well as a life-long Greek geek. He has worked as a journalist, a high school English teacher and an advertising copywriter. Stephen lives in Bucks County, PA, with his son Zachary in a house filled with books.
Where to find Stephen Bradford Marte online
Books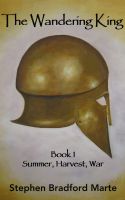 The Wandering King (Book 1: Summer, Harvest, War)
by

Stephen Bradford Marte
The Wandering King is based on 'The History' by Herodotus. People know the story of Leonidas and the last stand of the 300 Spartans at Thermopylae, but many of Herodotus' best stories have never been told—till now. Join Leonidas' nephew Euryanax, whose name means 'The Wandering King,' as he wanders around the Mediterranean fighting the Persians and engaging in a little romance along the way.
Stephen Bradford Marte's tag cloud