Stephen P. Scott
Biography
I was born in 1954 and grew up on a farm in the Ozarks of Northeastern Oklahoma. I've traveled extensively through the American West, Northwest and Southwest, with one side trip to Florida. I have a BA in English Literature from the University of Oklahoma. I've worked as a poke picker, dishwasher, roofer, goat farmer, printer, warehouse person, country singer, standup comic, bookbinder, photographer, writer, housepainter, editor, dumptruck driver, playwright, landscaper, teacher, janitor, graphic designer and computer technician. I'm a really good janitor.
Where to find Stephen P. Scott online
Books
Jordan's Fall
by

Stephen P. Scott
Jordan Daniels has lost his car, his house, his livelihood and his body. He'll have to go beyond the ends of the Earth to get them back. And then, maybe. With the help of a few friends, Jordan must relearn the ways of the Brotherhood of the Jaguar and apprehend a criminal from another dimension to win favor from the Council of Elders, but time is running out and Jordan risks losing everything.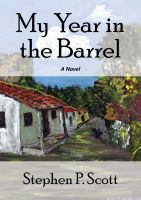 My Year in the Barrel
by

Stephen P. Scott
Charlie Marlowe is a writer who finds himself exiled in a Central American country that time and the world have forgotten, and he has a price on his head. Before he can return to the civilized world he must journey into the heart of darkness and interview a mythical missionary, but first he must survive the climate, the flora and fauna, and the local cast of expatriate characters.
Stephen P. Scott's tag cloud