Stephen Tierney
Biography
Stephen Tierney writes adult commercial fiction centered on strong characters, with romance and pacey

storylines. His debut 'Harvest for the World' is to be followed by 'Judicious Love' so developing his
Brubaker themed series.

Steve lives in Cornwall, United Kingdom with his wife of thirty-three years, together with two canine companions.
Books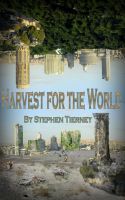 Harvest for the World
When a combination of strange weather patterns and the bustling population explosion experienced over the past four years has bought about starvation on a world-wide scale; a young man living in Missouri happens to stumble across a possible solution in a soil sample which greatly enhances plant growth.
Stephen Tierney's tag cloud